2012 was full of new discoveries, changing tastes in books, and of course, Oceana and Lisbeth meeting each other. Here we go over our favorite reads of 2012.
Oceana's Favorites
When people asked me what my favorite read of 2012, quite easily, I responded, '
Stolen
by Lucy Christopher'. What I didn't realize is that when I was asked this, they meant books
published
in 2012 that I loved.
Oops. There goes the blonde in me.
So in this post, I'll be re-counting my top 10 favorite reads of books published in 2012. Just so you don't get confused.
10.
The Lost Prince by Julie Kagawa
A disappointing spin-off, but great by itself.
9.
Everneath by Brodi Ashton
Likable characters and a beautiful plot.
8.
Hallowed by Cynthia Hand
ASDJKLLL TUCKER MARRY ME
7.
I Hunt Killers by Barry Lyga
Incredibly creepy, dark, and gruesome.
6.
Easy by Tammara Webber
Inspirational messages and themes.
5.
The Immortal Rules by Julie Kagawa
Twilight what?
4.
Opal by Jennifer L. Armentrout
There's something in these books. Like drugs.
3.
The Fault In Our Stars by John Green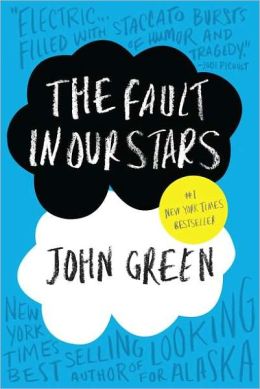 Here's a box of tissues.
2.
Days of Blood & Starlight by Laini Taylor
Her writing is inhuman.
1.
Eternally Yours by Cate Tiernan
One of my favorites of all time.
SEE HOW MUCH I LOVE IT? I was willing to take an embarrassing picture with my precious.
Tons of my favorite books of all-time were actually released around 2010, and most of my 2012 favorites were sequels of my previous favorites. I discovered a lot of good books in 2012, but none of them really blew my mind - mostly only the top five.
Lisbeth's Favourites
Woah, I can't believe the year is over already! I can't believe that it's already been a year since I sat down by my laptop, who is now departed (RIP dear laptop), and decided that I would start a book blog and review YA books.
Though it's only been a year, I think that I've grown a lot since then, not only in my tastes in books but everything. Not to be vain, but I think I've made some pretty good choices as well such as leaving Shelfari (another book site) and joining Goodreads and finally working up the courage to talk to Oceana (yeah, it all spiraled from there).
Okay, to close this rambling introduction, I'm going to tell you this is actually a "Top Ten Favourite Reads" post not a weird mushy post about my emotional journey through the year.
10.
Wanderlove by Kirsten Hubbard
Wow.
Deeply moving and brilliant.
Different and original with beautiful execution.
An interesting take on a zombie apocalypse.
ASDFGHJKL; LOVE
Horrifying and wonderful.
Walking Dead + Vampires = Awesome
Beautiful.
Jodi Lynn Anderson's writing is up there with Laini Taylor's (Oceana disagrees)
So yeah, that's it. I didn't have as many "ZOMG I LOVE THIS BOOK" moments as last year (remember that was the year when I loved Twilight). Hope you enjoyed! What were your top ten reads this year?